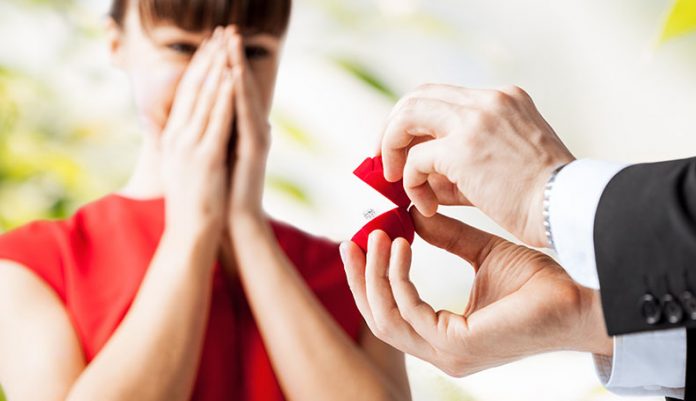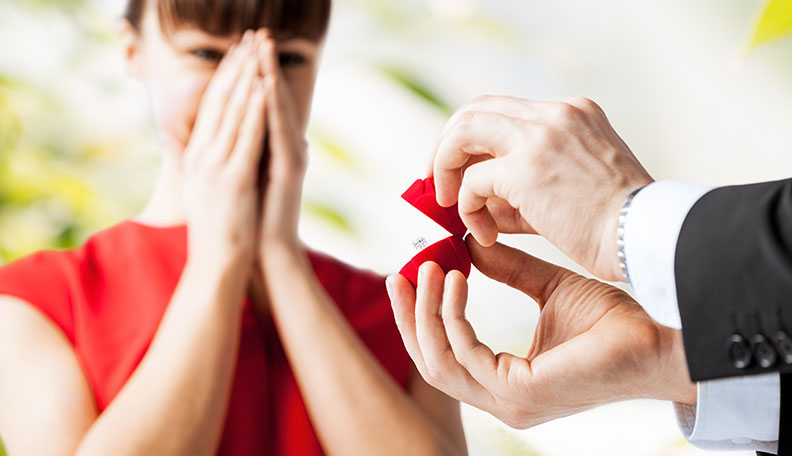 So do you want to know how to propose to your girlfriend in the most memorable manner? You may have heard a lot of impressive tips to make that proposal all the more special, but can those forged ideas actually make your day special? The best way, says Audrey Barnes, is when you propose in your own special way.
Here are a few guidelines that can help you understand how to propose to your girlfriend in the perfect manner, all by yourself, just the way both of you would like it.
The perfect proposal. That three word sentence that can drive a stake into anyone's sanity! In most of the cases, it's the men who propose and the women who go blurry eyed and runny nosey.
Well, that's why the men usually leave the wedding plans to the women, I guess.
Don't Copy Celebrity Tips on How to Propose to your Girlfriend
Don't ever copy celebrities and their proposal ideas. It's lame, and you'll always be compared to the big guy with loads of money.
When Tom Cruise proposed to his girlfriend, he did it atop the Eiffel Tower. Nice. But so not-fresh. I mean, here's a guy who can be so unique and jump on Oprah's couch, but can't think of anything special for that once-in-a-lifetime, uhh… (or is that twice, ahem… thrice?) moment with his lady love. And what about Seal's proposal to Heidi Klum in the Canadian mountains, in an igloo? Cute. And a bit more classy and unique.
So you see, even big celebs with daily planners and round table think tanks all around sometimes do screw up when it comes to proposing to their girlfriends. On the other hand, women's proposals like Monica's candle fumed proposal to Chandler in 'Friends' was sweet too, especially with all the aahs and the oohs we heard in the background.
What's the point here? Two things, don't ever copy a celebrity unless you plan to make it a better version.
And secondly, to propose to your girlfriend in a way that would never be forgotten for the rest of your lives, you just need to use your head.
How? Read on, and you'll know it all.
How to Propose to your Girlfriend
If you're in the mood to propose and go down on one knee, say a few words and wait for your girlfriend to go all misty eyed and blind for a few seconds, and remember those lines you said, and recount it to every walking-talking thing with ears, you need to plan how to propose to your girlfriend keeping all the details in mind. Everywhere you see, there may be different proposal ideas. A hill top, on a trip, by the seaside, a ring in a champagne glass, etc and etc.
That reminds me of a time when a friend of mine proposed to his girlfriend by dropping the ring into her glass of red wine. You know the story. No, she didn't swallow it (that would have been terribly disgusting the next morning!), she thought it was a piece of hard cork, so she spat it out with a pukish splash and yelled at the manager. It took a few minutes for her flushed temper to calm down. But. The proposal was memorable. If that's any consolation. Now, that's dumb, you don't try to camouflage the ring and shock your partner, you're supposed to entice your partner to wonder what it is.
Anyways, the point here is that different people have different preferences when it comes to proposing to their girlfriend. So a regular proposal off another pro won't help you. I'll help you along the way in this series on how to propose to your girlfriend, and I can assure you that you'd be able to think up of something really exciting and memorable to your partner by the time you're done reading this three part series.
Of course, you know your girlfriend better than any manual, don't you think? Here are a few things that you should know before you propose to your girlfriend. And nope, I have no proposal ideas for you. I'm just going to make you think your own way into the perfect and unique proposal.
Will it be a 'yes' when you propose to your girlfriend?
This one is way too obvious. Don't just spend eternity planning up on how to propose to your girlfriend if you're not sure if the answer's going to be a soul stirring 'Yes'. You should know this one. Firstly, because it will break your heart if it's a No. Secondly, it is going to be very embarrassing!
You must have had those conversations with your girlfriend before, the ones that go along the lines of "how many babies do you want to have?", "how do you think life could be when we get married?", and a few more. Make sure it's a surprise to your girlfriend, but also be certain that you wouldn't be surprised by your girlfriend's response.